Expo / Sponsorship Opportunities
Event Sponsorship Information
Why Become a Sponsor and/or Resource Expo Partner?
To foster new relationships and enhance brand recognition within the St. Louis community.
Increase brand exposure before and during the event.
Access new opportunities to engage with the local community, build partnerships and expand your network.
Conference Overview
2021 will be our 3rd Elevate Conference; with previous years:
2019 – Taking Your Organization to the Next Level
2020 – Closing the Racial Wealth Gap
Audience Demographic
Participants 18 – 65+ within a 10-15 mile radius of St. Louis City
Conference Goal
To provide a community-based event that brings awareness to health disparities and offers opportunities to shift the narrative to have a more inclusive experience with healthcare professionals.
Your support will help provide:
Access to the conference for upwards of 2,000 people virtually, and 200 people live (current CDC limitation) within the St. Louis community.
Safe transportation to and from the conference for our most vulnerable Senior community members.
Digital, technical and advanced connectivity for conference participants.
Conference Focus
Our 2021 Conference aims to address challenges within our community including:
Access to health care, education and resources.
Sense of complacency, hopelessness and acceptance of living (or just dealing with) various diseases such as HIV/AIDS, diabetes, hypertension, etc.
Conference Program
Panel discussions with area healthcare professionals
Interactive health demonstrations (i.e. cooking, exercise, etc.)
Full service health care resources provided by the City of St. Louis Department of Health
Access to COVID-19 testing and vaccinations
Sponsorship Packages – 
SPONSORSHIP REGISTRATIONS ARE NOW CLOSED
ATTENTION:  Thank you to all who registered as Resource Expo Partners, Vendors and Sponsors.  Unfortunately, all sponsorship opportunities are closed due to our adherance to COVID-19 guidelines.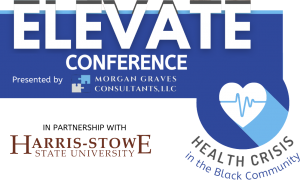 If you stll wish to offer your support for the conference and all we are doing, you may continue to do so with your financal contributions.  Send an email to contribute@mgcelevate.com stating your interest in supporting the conference or click here to contribute now.
** Resource booths were limited based on COVID capacity.
Friday, October 29, 2021  |  9am – 3pm
Harris-Stowe State University
​3026 Laclede Avenue
St. Louis, MO 63103





Thank You to Our Valued Sponsors!!
2021 Featured Organization
Valeda's Hope